Have you ever heard of a pump track? Did you know that there is one close to home in Paris, Texas? A pump track is a paved track with a series of banked turns and rolling hills, designed so that riders generate momentum through body movements (aka, pumping) rather than pedaling. But, besides the semantics, it's a lot of fun! Cruising around the pump track is an adventure for all ages, just be sure to wear your helmet!
If you're ready to take on the bumps and turns, take a few laps on the pump track, located in the park near the Eiffel Tower of Texas. Or, if you'd like to watch your children try it for a while, sit back and relax on the nearby shaded picnic benches. There is a great view of the entire track from any place along the top of the hill surrounding the riding area. The new pump track has attracted the attention of Red Bull and coming up at the end of May, it will be the site of a qualifying tournament for the Red Bull UCI Pump Track World Championships!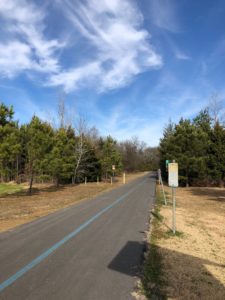 Maybe you want something a little more mellow? Check out the Trail de Paris paved bike trail directly next to the pump track. The Trail de Paris runs from 4th St. SW to the Eastern city limits where it connects to the Reno Rail Trail. It features an outdoor yoga park, a butterfly garden, multiple kiosk locations, and art along the trail. It's also a great route for younger children, those just learning to ride, or for scooters, rollerblades, or roller skates. To plan your route, you can find maps and mileage online HERE.
As the summer heat begins to ramp up, I'd recommend taking a break in the heat of the day to rest and refuel at the Paris Bakery or at the Paris Coffee Shop.
Here are five tips to make the most of your day:
Bring plenty of water! Carry water bottles or water bladder/hydration packs for each person. I'd also recommend leaving a jug of water in the car to refill water bottles after the adventure.
Don't forget the snacks! A personal favorite – frozen grapes tucked away in a Stasher (re-useable) bag. They make a cool and refreshing snack when the temperatures ramp up!
Helmets, elbow pads, and knee pads! And maybe bring along a first aid kit just in case of bumps and scrapes. My personal favorite is the ultra-light first aid kits from Adventure Medical Kits.
A backpack to carry your important and valuable items with you, plus all the water, snacks, and first aid kit.
Sunscreen or sun protection. While there is a bit of shade provided around the track, the pump track itself is not shaded and made of black asphalt. Sunglasses and sunscreen are important!
Biking is such a wonderful family activity and Paris, Texas has a little something for everyone! One more tip, if you're ready for some mountain biking and trail riding, be sure to check out the Barber Hills trails at Pat Mayse Lake.
---
Farmers Bank & Trust is a proud T-Shirt sponsor for the 2021 Red Bull UCI Pump Track World Championships!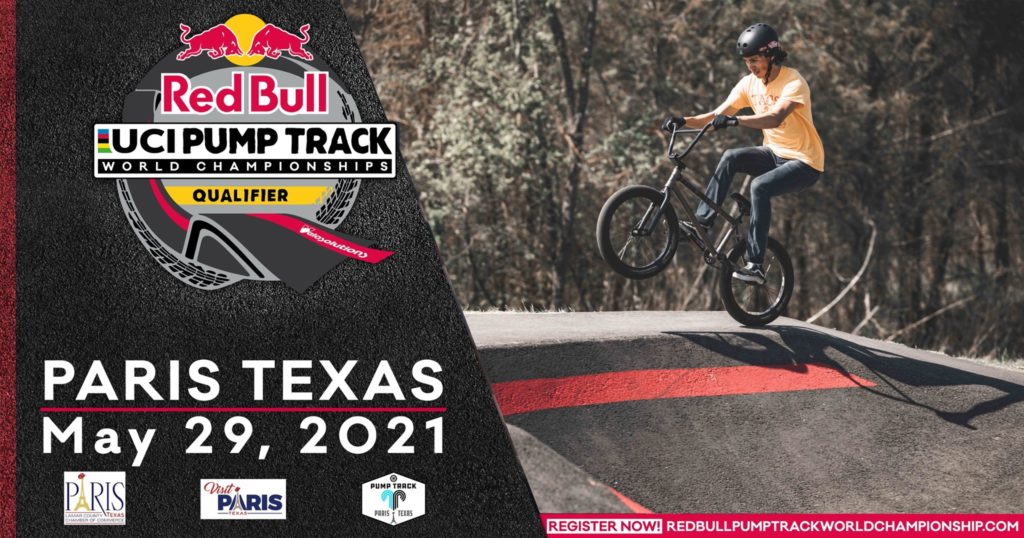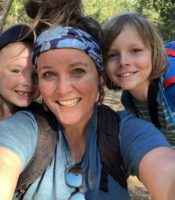 Never afraid of a long drive, Nichole is a homeschooling mom to two and wife to Ryan. Coffee, always, and black please. You can probably find her scheming up their next road trip while hiking in the woods. Experience based learning and good books abound in their homeschool, as they chase the spark of curiosity where it wanders on the road less traveled. See more shenanigans on her Instagram @coleyraeh.